If the Fans are not spinning on your case, or if the fans are not lighting up.
Please first try each of the buttons on the remote control in turn, to see if one of those buttons turns the fans on for you. The remote control & the internal control box are designed to work together but they are often from different batches so often the keys are different.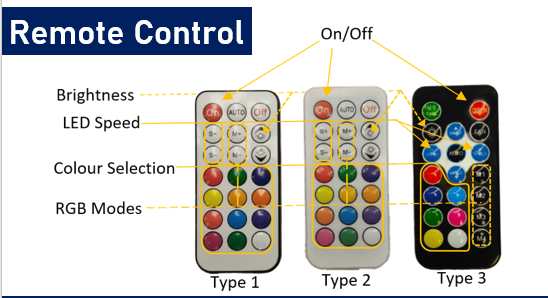 Turn the PC fully off then turn it back on from cold
If these steps don't help please check the internal cables
With The PC turned off please open up the metal panel on the rear side of the PC, opposite the glass viewing panel.
And locate this Controller Box
​
​Make sure all the fans cables and power connection cable are plugged firmly into the Controller Box
If none of the Fans are spinning or lighting up.
Trace the power connector cable and make sure the Female (F) Molex connector is plugged into a (M) Molex connector coming from the Power Supply PSU
​
​
If your case has an LED Side Panel, that is not lighting up
​
​



Please make the connector from the panel is plugged in to this LED1 or LED2 socket
Do not plug this cable into any of the FAN sockets
​
​
Please note sometimes the design of the controller box is slightly different but the layout is usually the same.
If this doesnt help the issue is most likely with the Remote Control, or the internal controller BOX
We can quickly send you out rep[lacements if that is the case
Please can you confirm if the remote control works ie it still changes the lights for you when you press the buttons ?