In some instances Graphics card manufacturers release game ready drivers to optimize newer games but the newer driver is incompatible with older games
in these cases if you have just updated your drivers and you are now having issues with your games Please first check with the forums or support for your particular game
In some cases it may be just your current drivers that have become corrupted & need to be repaired
The procedure is the same as below but you just choose the latest drivers to download and install after using the Driver Cleaning tool
If the Game company or forums recommend using an older driver please go to
https://www.nvidia.co.uk/Download/Find.aspx?lang=en-uk
Select Geforce & your Product Series
Choose Windows 10 64-bit as your Operating System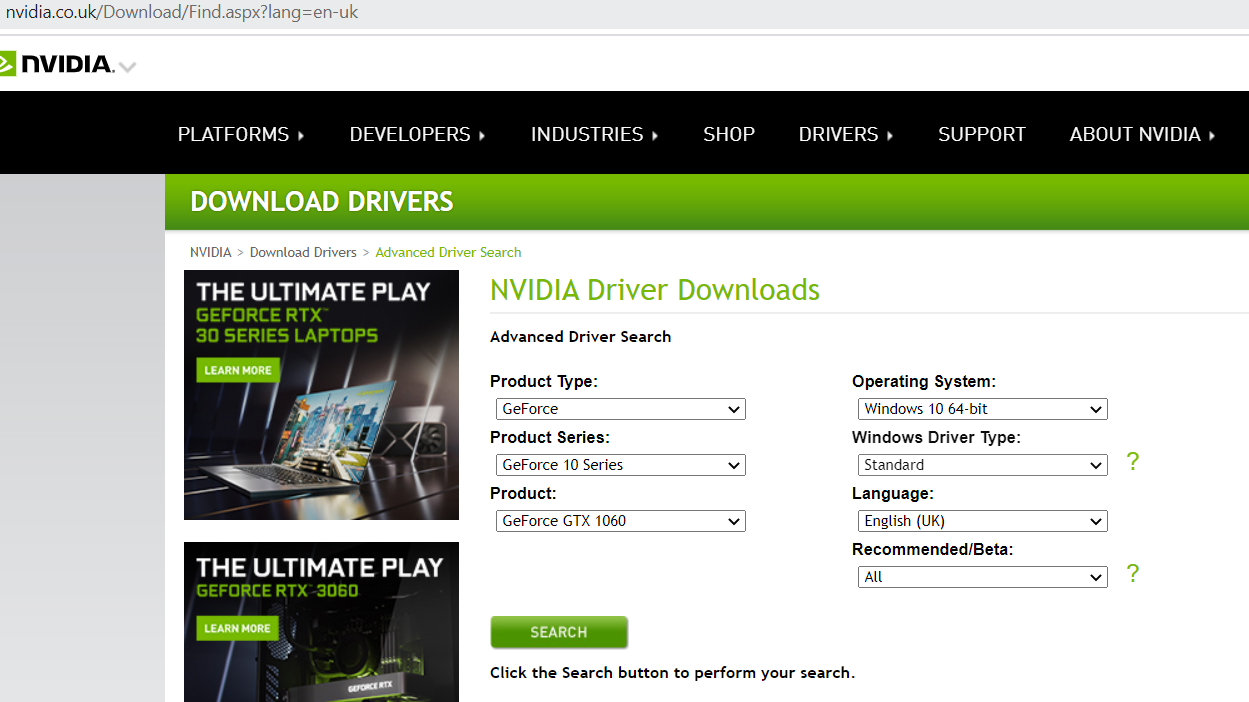 Then click search
A Listing of previous drivers will be displayed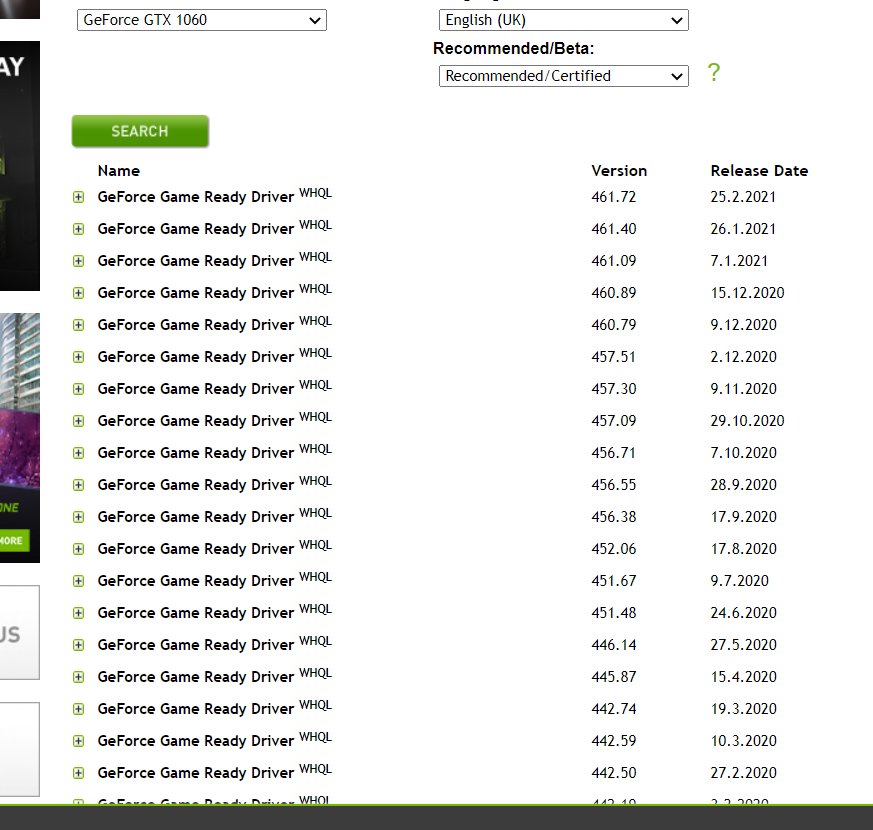 Select the previous driver by date & download but do not install yet as we need to clean out the existing driver
To do this we will use the Display Driver Uninstaller tool DDU
Please go here
https://www.guru3d.com/files-details/display-driver-uninstaller-download.html
and choose one of the download mirrors below
Locate the [Guru3D.com]-DDU.zip file in your downloads folder & unzip the folder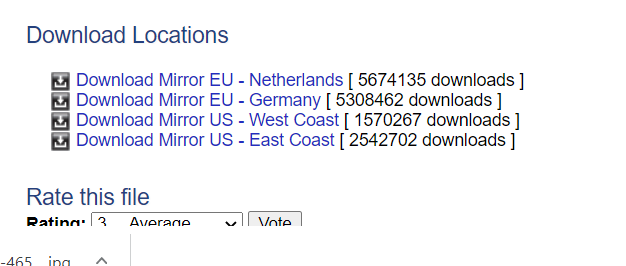 Locate the [Guru3D.com]-DDU.zip file in your downloads folder & unzip the folder
You may need to download & install an unzipping application such as 7zip, Winrar, Winzip to unzip the compressed folder
Once unzipped find and open the
[Guru3D.com]-DDU folder, this will be where you unzipped the file to
then run DDU v18.0.3.6or DDU v18.0.3.6.exe from within the folder
This will unzip a further folder [Guru3D.com]-DDU\DDU v18.0.3.6
Please make a note of this location
usually it will be C:\Users\HDD-TEST\Downloads\[Guru3D.com]-DDU but this does depend where you downloaded & unzipped the file to
The next step is to go to Windows 10 Safe mode
Please follow the instructions below
https://support.microsoft.com/en-us/windows/start-your-pc-in-safe-mode-in-windows-10-92c27cff-db89-8644-1ce4-b3e5e56fe234
In Safe mode please navigate the DDU folder & run Display Driver Uninstaller or Display Driver Uninstaller.exe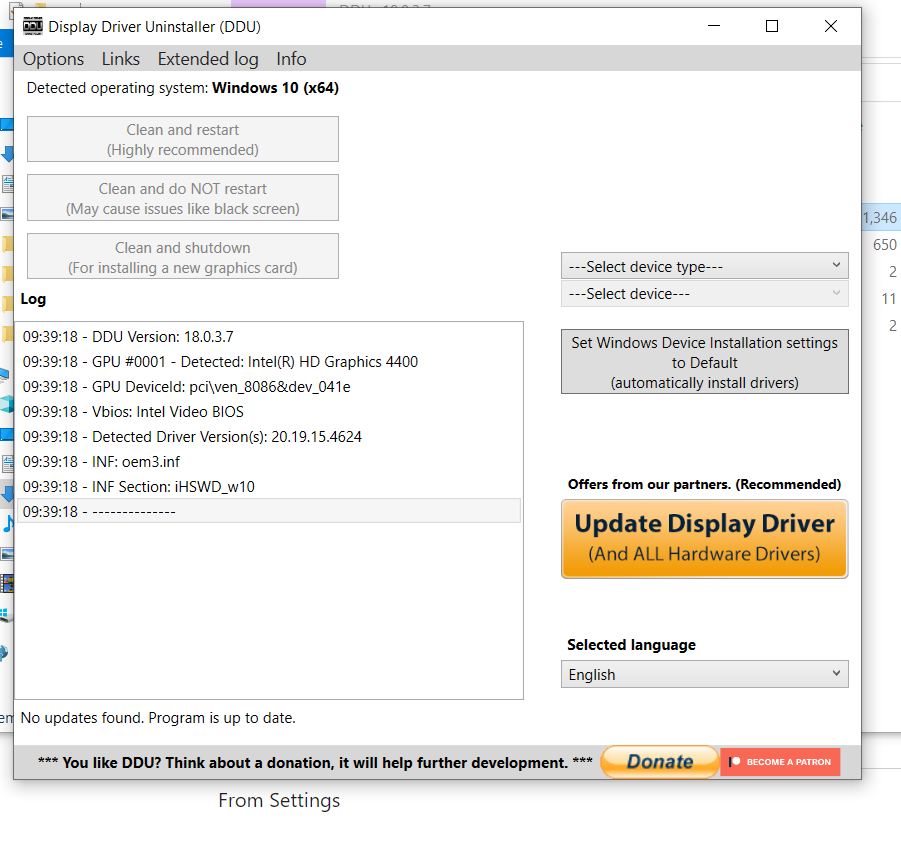 Select GPU & Nvidia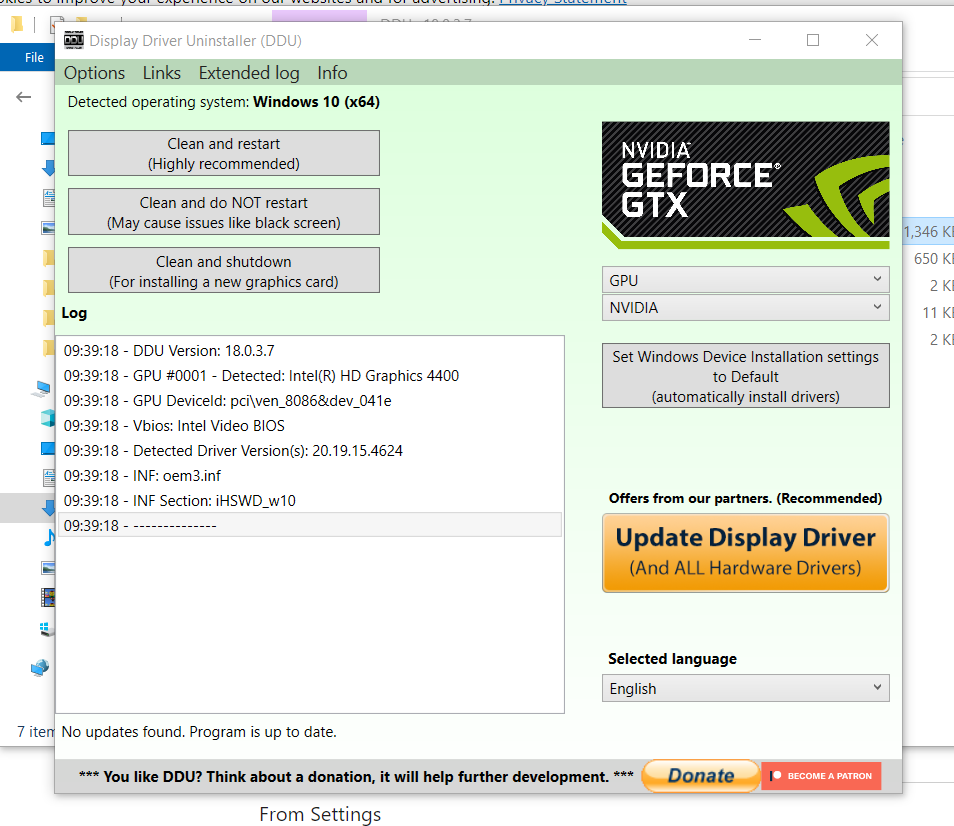 Choose Clean & Restart, this process will take a few minutes & your computer will then reboot into windows as normal
You will notice that your a running at a lower resolution than normal, bigger icons etc
Navigate once more to your downloads folder & locate the Nvidia driver you downloaded earlier
for example

461.72-desktop-win10-64bit-international-whql, please note the name will be different depending on which version of the drivers you chose to download
Run this file it will unzip and launch the install program automatically
6) If you agreed to the license agreement, you will be presented with the installer options as shown below.
Choose a Custom Install & choose a Clean Install
Please note the screens are slightly different to what you might see.
Also You dont need to install the Geforce experience component if you dont want to.
Tick all the options you require


Reboot as necessary
This should eliminate any driver issues that you are having
Also if your Gaming card GPU is AMD rather than Nvidia
Please go to
Choose Windows 10 64 bit edition
Then choose your drivers by date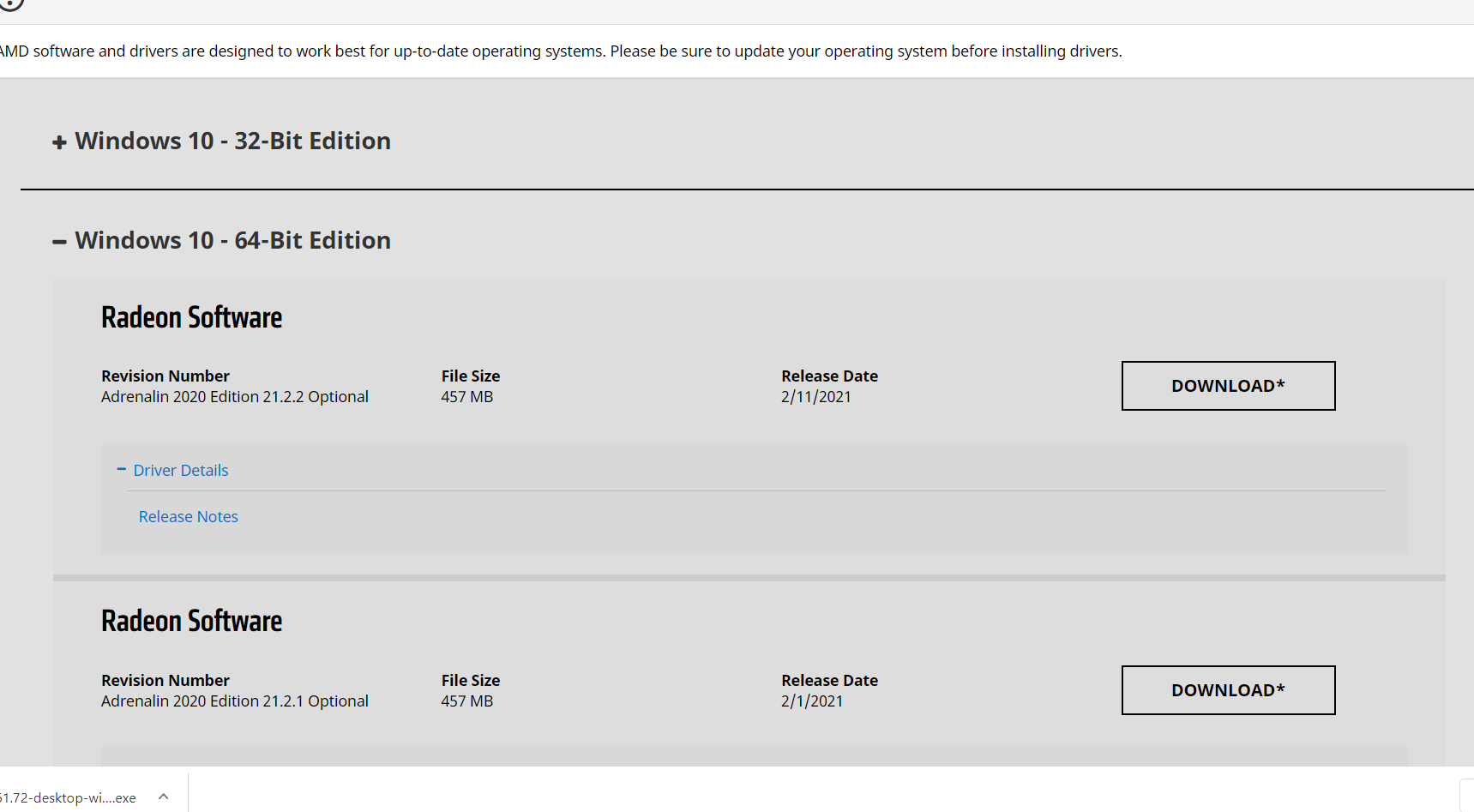 You will also need to use the DDU tool but in this case clean the AMD GPU drivers with the tool in safe mode.
Also run the tool a 2nd time & choose to remove any Nvidia Drivers. This is because Windows sometimes installs Nvidia drivers by default, which can cause interference if you have an AMD card
It is also recommended to run this process after a clean install of windows. This is because windows install its own version of AMD drivers that can sometimes conflict with the latest manufacturers drivers.
When Windows reboots install the latest AMD drivers you downloaded previously
https://www.gpumag.com/install-update-amd-drivers/
Once you have freshly installed your Nvidia or AMD GPU drivers (either previous drivers or updated drivers) you should have no more driver related issues